Now that James and Megan have framed the high-level creation process for your book, including writing, editing, and design, it's time to make a decision. Do you take your book idea or finished manuscript and start sending it to publishers, or do you just do it yourself and start selling?
Today's Kryptonite: Picking Your Path!
---
Today's show is sponsored by Free Agent Press.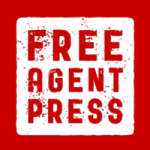 Free Agent Press specializes in Do It For You Self-Publishing.
You write, and they help you get it out there. Visit FreeAgentPress.com to learn more!
---
Why should you self-publish your book instead of getting a publisher?:
First off, we're not against traditional publishers. There are reasons to attempt to get a book contract before self-publishing:

It offers legitimacy. So few contracts are awarded that if you get one, people in the industry and media take notice. Self-publishing isn't just vanity publishing anymore, but a real contact from real publisher is an advantage.
Big publishers have bigger audiences. They can get you into physical bookstores more easily.
They have teams of people who will help craft your book.

However, very few authors get the huge advances we hear about in the media. Those are reserved for celebrities and mass-market authors.
James loves self-publishing for a variety of reasons:

Full creative control.
A faster pace. Big pubs can take 18-24 months to get your book out.
Ownership of the rights and all royalties.

If you do decide to shoot for a big name publisher first, here are some tips:

Most require you to have a book agent. They know what the market is looking for, and can help you find the right publisher for your book. But they also have to be paid.
Big publishers don't write big checks if you don't have a platform or an audience waiting to buy your book. While they will help with marketing, most of it is up to you, and that is their expectation. If you aren't willing to sell it, they won't be interested.
Most don't want to see your finished book, but a concept and some sample writing. I highly recommend buying Michael Hyatt's Writing a Winning a Book Proposal [affiliate link] ebook, as it will frame your purpose and content well (and it is useful if you self-publish or seek out a contract).
Be prepared for lots of rejection. Even best-sellers like The Traveler's Gift by Andy Andrews or The Hunt for Red October by Tom Clancy were rejected dozens of times. It's part of the process, so brace for it and keep going.
Review the contract with your lawyer. Get the best buy-back terms you can (typically 50-55% of retail, which is not great). And secure the ebook or audiobook rights if they are not interested. They may also want it to be a multiple book deal or at least have the right of first refusal on your future projects. Everything is negotiable (though they may say it's not), but work toward a win-win.
You can always fall back on self-publishing if rejected.
What do I need to do in order to self-publish?:
Building a book is a lot like building a house. You need to think like a project manager and get everything lined up in order to turn over a functional product in the end.
Let's assume you have written a book and you've decided to share it with the world via self-publishing. You'll need the following:

An editor or proofreader
A layout editor/artist
A cover designer
A printer
A distribution method (to include payment, taxes, packaging, shipping, etc.)
A book launch and marketing plan (which we'll cover in depth on our next episode)
How do I find help if I can't do it all myself?:
There are a variety of models in the self-publishing world that you can investigate:

You can do it all yourself. It's possible, but few have the ability to do a good job (meaning it doesn't look or feel or read like a self-published book).
You can hire out all of the different parts that are needed, and act as the general manager/project manager of the effort. This is similar to what you can do with CreateSpace by Amazon, which has a lot of help and service providers available.
You can pay for a hybrid publisher to do it all. Most big publishers are getting into this business, and they can do the work for you in exchange for your money and a portion of all book sales. Prices range from $1000 to more than $10,000, depending on what you need. Some are good and offer books that do well a chance to be promoted heavily or converted to a major publishing contract. Others are happy to take your money and sell you services you don't really need, especially if you only have the capacity to sell a few hundred copies (or less). In almost all cases you are buying your books at a premium price, so consider all variables before using them.
Another model would be to hire someone to handle your book production for you.  This is more affordable than the hybrid publishers, and you retain control, including your copyright and 100% of your royalties in most cases. FreeAgentPress.com is an example of this model. Expect to pay $2500-7500 depending on the services involved.

Whatever model you choose, make sure you're focused on getting a quality book on your available budget, and calculate how many books you need to sell to break even. Most self-published books don't sell more than 200 copies, so you'll need to work hard and plan to sell more.

Remember also that your profit potential on book sales is probably much lower than how it positions you as an expert so that you can sell yourself. Writing a book helps open doors for greater marketing of your business, and the book itself may be a loss leader.
Think of it this way…if you can make $5 per book you sell, you'll need to sell 20,000 copies to make $100,000 profit. That's 100 times the number of books most people sell when self-publishing.  This is not a get rich quick strategy.
Action Steps:
Pick Your Path – Do you want a publishing contract or do you want to self-publish?
Either way, read Michael Hyatt'sWriting a Winning a Book Proposal [affiliate link] ebooks (fiction and nonfiction) to prepare a book proposal if you want to pursue a traditional publisher.
If contract, work on your proposal and search for book agents or publishers that don't require an agent.
If self-publishing, pick the method that fits your needs and your budget.
---