This is not about New Years Resolutions.  
This is about real change in your business and your life.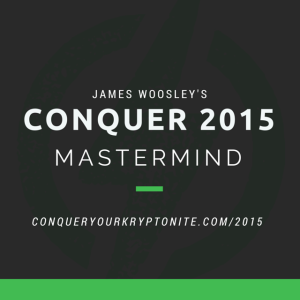 A New Year is about a fresh start and it's a great time to draw a line in the sand and get serious about what you want to do.  The opportunity is upon us now, and while we can draw a line anytime, this is a special time to do so.
Don't do it alone!  
Join strategic business coach James Woosley as he assembles a group of dedicated business owners and start-up entrepreneurs committed to making ambitious progress in the new year.  Using the Simple Strategic Planning Framework, you'll learn how to develop an intentional plan and execute it with intensity.
---
Mastermind Concept:
Develop your business strategy for 2015 in December, followed by weekly accountability sessions through March 2015.
This is a facilitated mastermind group focused on accountability with a dash of training (not a dedicated coaching program).
Session Details:
Kickoff Call (week of 12/8) to learn the Simple Strategic Planning process basics
Strategy Call (week of 12/15) to refine learning and ask questions before building plans over the holidays
Weekly Calls starting week of 1/5 and running through the end of March
Calls will be recorded and available to all participants
Limited to 12 participants
Exclusive Bonuses:
Includes ebook and audiobook versions of Conquer the Entrepreneur's Kryptonite
Discounted rate for hardcopies of Conquer the Entrepreneur's Kryptonite and the new Conquer Your Kryptonite Workbook
Discounted plan reviews and one-on-one coaching
Only $497/person*
Space is Limited – Register Now!
Email james@woosleycoaching.com if you have questions or prefer to pay via PayPal invoice.